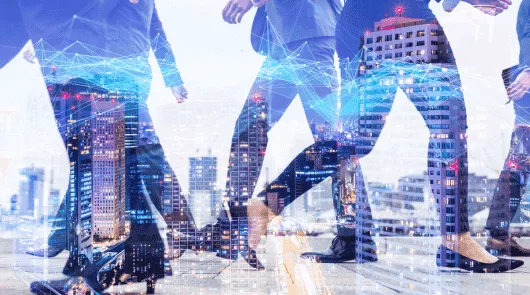 In our post, The Great Resignation: A Wakeup Call for Canadian Law Firms, we highlighted the enormous cost of lawyer turnover at a firm. Recruiting, onboarding, and training, combined with errors and lost productivity, can cost a firm up to $800,000 per lost lawyer. Employee retention just makes good economic sense. Yet, in 2021, law firms came "dangerously close to losing almost one-quarter of their associates." (1)
A new report from Thomson Reuters Institute and the Center on Ethics and the Legal Profession at Georgetown University Law Center, Law firms competing for talent in 2022: Will lawyers stay or will they go? (2) examined the differences between firms with low and high employee turnover – what the report calls Stay Firms and Go Firms. Here we highlight four significant findings, with a bonus highlight from a related report.
1. Not All Firms Are Struggling to Retain Talent
The talent churn hasn't hit all firms equally. The Thomson Reuters report found that "Go Firms" had turnover in 2021 more than double the rate of Stay Firms. And while Stay Firms grew their headcount through 2021, Go Firms struggled to return to pre-pandemic levels. (3)
2. It's Different for Associates
While the difference between Stay and Go firms is dramatic, so too are the differences between partner and associate churn. According to Leopard Solutions data, exits by partners at the Top 200 U.S. firms increased by 17% in 2021, while the number of exiting associates jumped much more sharply, up by 43%.
"Those who have hit the career milestone of partnership are more reluctant to give it up," says Phil Flora, a Leopard Solutions vice president. "Associates are much more likely to look for greater advantage at other firms." (4)
And the pandemic amplified the disconnect among associates. Working remotely, associates had fewer opportunities to develop relationships with mentors. Gone were the ad hoc discussions and team-building opportunities that would have created a deeper sense of belonging.
3. The Great Resignation is Not The Great Exit
Not all employees are leaving the profession entirely. According to data from business intelligence firm Leopard Solutions, "BigLaw partners and associates joining the Great Resignation are not so much rejecting the legal industry as they are embracing new possibilities and bidding for greener pastures."
Leopard's research shows that at least 45% of those who left a Top 200 firm in 2021 went to another firm, and 23% brought their legal experience to a corporate, academic, or government setting.
Source: ABA Journal, Much Ado About Nothing? April 1, 2022
4. It's Not Just About the Money
Record law firm turnover and the resulting compensation wars have pushed salaries to new heights. But the Thomson Reuters – Georgetown report suggests that for those who switch firms, it's not just about the money.
When associates were asked what they like best about their firm, compensation fell well below other factors. The people they work with, the firm's culture, the quality of work offered, and flexible work arrangements were each cited more than twice as often as money.
As further proof, average associate compensation at Stay Firms actually lagged behind that of their Go Firm counterparts, according to Thomson Reuters. Clearly, something else is at play here that makes some firms feel like home while others feel "temporary". (3)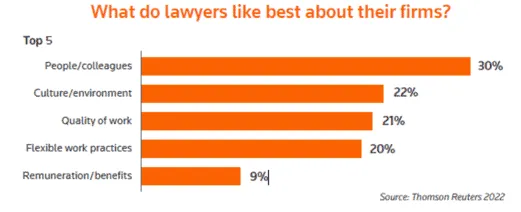 5. The Productivity Paradox
One of the more interesting findings of the Thomson Reuters report: Although lawyers at Stay Firms are generally getting paid less, they're working more.
Source: Thomson Reuters
This may sound contradictory, but consider the Thomson Reuters survey responses from lawyers who their clients identified as particular standouts:
Lawyers at Stay Firms expressed higher levels of satisfaction than lawyers at Go Firms for factors such as being treated fairly, ability to be themselves, firm management, rewards and compensation, and opportunities for growth. (Note that "rewards and compensation" were mentioned even though compensation at Stay Firms lagged their Go Firm counterparts.)
Lawyers at stay firms also expressed higher levels of satisfaction with support functions such as IT, finance, marketing, and innovation.
Lawyers at Stay firms were more likely to self-identify as innovators or early adopters of new technology
In the context of these factors, the productivity paradox makes sense. Happier lawyers want to work harder.
Concluding Thoughts
There's no sign that the talent war is abating, and salaries will continue to escalate. But while the prospect of higher compensation may be the draw to a new opportunity, the real reason for a lawyer's or associate's decision to leave may lie elsewhere.
Aside from the firm's cultural attributes, consider the support functions and technologies that can free up lawyers and their staff for more satisfying high-value work. Striking the right balance between monetary incentives and other factors that drive satisfaction will serve firms well in the long term.
(1) https://www.abajournal.com/news/article/law-firms-came-dangerously-close-to-losing-a-quarter-of-their-associates-in-2021
(2) https://www.thomsonreuters.com/en-us/posts/legal/law-firms-stay-go-report-2022/
(3) https://abovethelaw.com/2022/04/the-difference-between-keeping-lawyers-and-losing-lawyers-its-more-than-money/
(4) https://www.abajournal.com/magazine/article/much-ado-about-nothing-when-it-comes-to-lawyers-is-the-great-resignation-really-just-the-great-reshuffle

About Michael Sauber
Michael Sauber leads the marketing program for Korbitec, producer of Automated Civil Litigation Software (ACL) and xchangedocs. He has worked with document production technologies and professional services for over 30 years and is a frequent blogger on these topics.