ACL
How Automated Civil Litigation (ACL) Software Works
legal Document assembly in minutes
ACL automates the entire process of creating court documents and letters, enabling lawyers and their staff to prepare documents quickly, accurately and as efficiently as possible.
With ACL, a document that might take 15 minutes to generate manually could take less than 1 minute. ACL increases productivity by eliminating repetitive data entry, eliminates content errors by removing the need to cut and paste and generally makes your work load much easier to complete.
It saves time and produces professionally and consistently styled documents. It's easy to use and always up-to-date with all rule changes and new court forms.
HOW IT WORKS
All client, opposing party and court information is entered one time and stored. Thereafter, users simply choose a document to assemble from the menu, fill in document related questions when prompted (re dates, checkbox selection and specific wording required) and then with one additional mouse click the document is assembled into MS Word where it can be proofread, edited as required and saved.
"I would recommend ACL to any litigation practice for its speed, efficiently and ability to reduce errors in litigation documents"
ACL User | Adair Morse LLP
FREQUENTLY ASKED QUESTIONS
What's Contained in ACL?
ACL contains Rules of Civil Procedure Court Forms 4 through 76, all Estate forms, Federal Court Forms, Bankruptcy and Insolvency Forms, 14 Common Motions, Financial Services Commission of Ontario (FSCO) Defence forms, Mandatory Mediation, Commercial List, Factums, Releases, Small Claims Court Forms (1A to 20R), E-Discovery Plan, Agreements, Orders, a pre and post-judgment interest calculator and over 120 standard letters.
Why Use ACL?
ACL is the fastest, easiest and most reliable litigation document assembly solution available.  Over 10,000 Users from over 400 law firms have chosen ACL as the "best practices" way for their staff to assemble court forms and other litigation documents.
ACL is regarded as the single most reliable source for court forms. Korbitec provides and maintains the court forms so you can be sure you are using the right document every time.
ACL reduces Firm and Partner risk/liability, by reducing errors, improving firm efficiency and tracking critical dates.
ACL eliminates virtually all document errors by removing the error-prone habit of copying & pasting text from document to document.
ACL is full of useful legal content including common motions, factums, and releases that significantly improve lawyer effectiveness, efficiency and profitability, and allows staff to ramp up faster.
ACL produces professional, consistently-formatted documents throughout your firm.  Every document from all users automatically follows your chosen format and style for a consistent look and feel.
ACL can be customized with your firm's precedent content – making it possible to assemble a fully completed (multi-paragraph) defense pleading or plaintiff claim in just seconds – without the cost and hassle of multiple lawyers managing their own templates, and/or wasting time looking for templates or using the wrong precedent.
All updates, product enhancements, technical support and training are included in the ACL License and provided at no cost.
ACL improves working conditions, and eases workload by use of best practices technology.
Our training staff are all industry- trained in civil litigation.
What is the Customizability of ACL?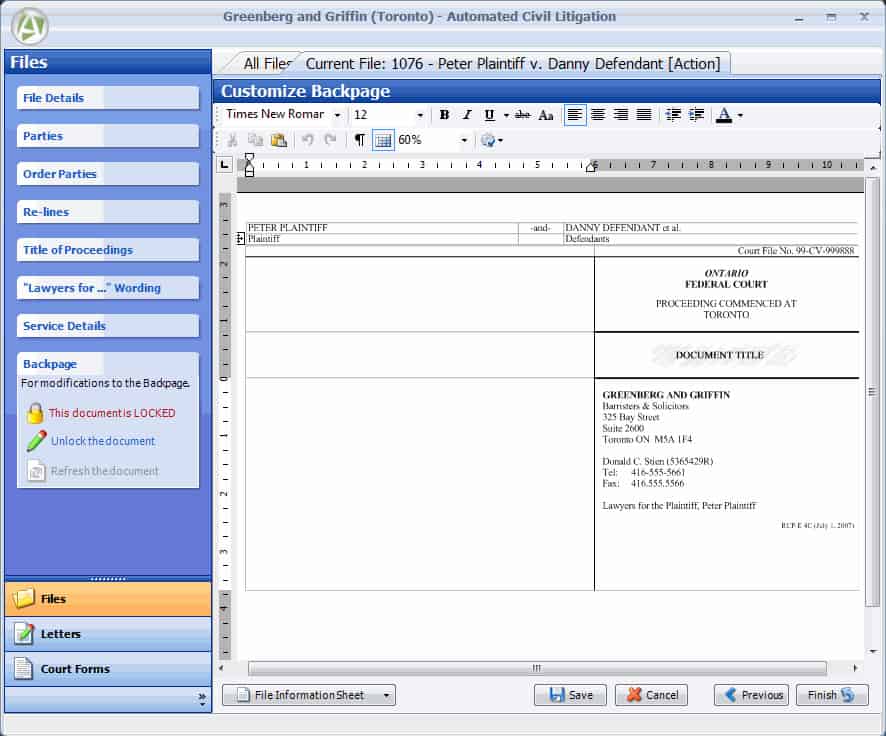 All ACL court forms and letters are user-modifiable Word templates. Firms can use the program as is or choose to customize any of our court documents or letters to suit their own wording or style preferences. Firms may also add and organize an unlimited number of their own precedent clauses; and may then select any of their own custom clauses to be included in assembled documents such as a Statement of Claim or Defence — the result being a very quickly completed document that requires no further editing in Word.
What is the cost of the software, implementation and training?
ACL typically licenses on a pay per use or "per file" basis. Other licensing arrangements are available that can meet the unique needs of your practice. The file license fee includes installation, initial customizations, firm specific set up and ALL initial and ongoing training and technical support. The content is also maintained and updated at no additional cost. You may also request additional training at any time for any new or existing users. All product updates and related support are also included in this "all in" file license fee.
How many users can utilize the software?
The program can be utilized by any number of licensed users. There is no maximum allowable number of users.
"To quote the users in the firm: They love it! ACL saves so much time in preparing court documents and is also very user friendly."
— Cathy Di Tommaso / Ricketts Harris LLP
How long does training take?
The ACL Administrator training is done remotely and usually takes 1 hour. Some of the topics covered include file opening procedures, letter and document formatting, reports and maintenance. User Training consists of two sessions. The morning session is a Product Overview. The afternoon session is a File Opening Clinic where Users enter new and existing files. User training can be done remotely or on-site using our six person laptop training centre.
Do I need an IT person on staff?
No, the software is very easy to use so there is not a requirement to have an IT person on staff.  In most cases, if integration with an existing program is not required, then an IT person is only required to assist with the installation process.
Is customization possible?
All ACL court forms and letters are user-modifiable Word templates. Firms can use the program as is or choose to customize any of our court documents or letters to suit their own wording or style preferences. Firms may also add and organize an unlimited number of their own precedent clauses; and may then select any of their own custom clauses to be included in assembled documents such as a Statement of Claim or Defence.
"Amazing product – just makes life so much easier. The documents are always current and comply with all court rules – how much easier can it get?" 
— Steinberg Morton Hope & Israel LLP
How do you get my usage information?
ACL logs all file licensing activity and produces detailed reports. The system can also produce a number of management reports that allow you, the user, to track usage and forms generated in ACL. Korbitec does not receive or have access to confidential and client information.
How do I know the content is up to date and accurate?
The court forms are always up-to-date in accordance with the Rules of Civil Procedure changes. It is the role of our team to try and make all updates as changes arise. Korbitec will send updates (usually quarterly) with updated content in addition to any feature enhancements.
What happens when new people join the firm or people are replaced?
Korbitec will train new users or people that have re-joined the firm at no additional cost to the firm.
"ACL saves us time in preparing pleadings. The fact that the product is constantly being updated to reflect the changes in the Rules is of significant benefit to us."
— Cindy Yates, Law Clerk / Scarfone, Hawkins
Will this integrate with other software packages that we use?
The current version of ACL does integrate with *Microsoft Word and Outlook (2000 and newer), Time Matters and Oracle Database. ACL can also be customized to integrate with various accounting packages and document management systems to import client contact information as well as to restrict file access. Please continue to check with us for the most up-to-date features regarding integration with other software packages.
Do I need to upgrade my IT infrastructure? What are the minimum system requirements?
Minimum Requirements: Network drive with 1GB disk space. Workstations: Pentium III with 1GB of Ram and 60 MB of free disk space running Windows 2000 or better and Microsoft Word 2000 or better (WordPerfect not supported). For users running Windows Vista, 2GB of RAM is required.  Microsoft ® SQL Server 2000 or above is required.
*Microsoft Word and Outlook are trademarks of Microsoft Corporation.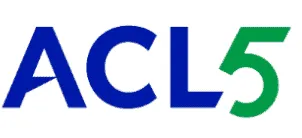 Your
solution

, your

way.

ACL can be customized to meet the specific needs of your firm.  ACL's flexibility allows us to adapt ACL to the way you work – not vice versa. 
Connect

With Us

Ready to learn how Korbitec can raise productivity, lower risk, and increase profit at your firm? Or just have a question for us? Fill out the form below and a representative will get back to you within 1 business day.